How do I register for admission to this program?
Refer to Admissions page for the latest admission procedure information. Please take special note that students apply to Simon Fraser University and indicate Engineering as their primary choice. Admission into SFU does not guarantee entry to the School of Engineering Science.
How many students are there in the program?
The current student population is approximately 500.
What is the atmosphere for women in engineering at SFU?
The number of female engineering students has been increasing each year, the atmosphere is positive, and extensive effort is made to ensure that this remains true. We strictly enforce a "zero tolerance" policy towards discrimination of any kind.
What options are available for students?
Students select from four specialized options in their third academic year: electronics engineering, computer engineering, systems, and engineering physics.
How do I choose which engineering option to go into?
The options do not "fill up" or restrict entry to existing engineering students; any option is open to any engineering student. All courses are identical for the first two years of courses, regardless of intended option. At the end of the second year, students are asked to select and register an option in which to continue their studies. Please consult the school calendar on more updated information about the industries to which each option leads.
How many students are admitted each Fall?
About 160. Transfer students are also accepted on a limited basis in Spring and Summer semesters.
What will be the size of my classes?
Class sizes for first-year engineering courses are usually the size of the admitted first-year population. However, the average class size diminishes as upper level courses approach and students are divided into their chosen options.
How long does the program normally take?
Based on the suggested curriculum schedule, the program requires 4 2/3years, or 8 semesters of study and 2 semesters for thesis completion. Most students, however, opt for lighter course loads, which lengthens the total academic time before graduation. Extended work terms in the earlier stages of the program will also extend this time.
I'm a science student, how do I transfer to engineering?
Students transferring from other majors/programs in Simon Fraser University should be in strong academic standing, and must apply to the School of Engineering Science for admission. See Admissions requirements and procedures.
What are the grade requirements for each option?
Once a student has been admitted to the Engineering program, there are no grade requirements for selecting an Engineering option. Each student is free to choose whichever option she/he pleases, without barriers to entry.
How do I get involved?! (Engineering Club). What are some things to do when bored and in between classes.
There are always events happening in and around the EUSS (Engineering Undergraduate Student Society), so help and participation is much appreciated! Ongoing projects, such as our newsletter Enscquire and the EUSS Yearbook, continually seek the time and efforts of volunteers who can spare some extra hands for tasks. Whether you are in between classes, are bored out of your tree, or are simply procrastinating, that surplus energy can be put to good use! For more projects, contact the EUSS by phone at 604-291-3484, or visit the website and contact the current president (under the EUSS Execs section).
What's the deadline for application, etc?
The application deadline is April 30. We advise you to submit your application as early as possible.
Is there a Guide that lists courses, different profs who teach them, and rates them on how well they taught the course?
No such list exists. Our students have a close working relationship with the professors and members of faculty. For comments on student preferences (ie. easy/hard, good/bad), this sort of information is usually passed by word of mouth and unofficially. Students may not find the "rating" to be accurate anyway, since this is based largely on personal preference for teaching styles.
Where are the computers for engineering students (for homework, email, etc.)?
While students may find it beneficial to purchase their own computer at home, the university has several computing facilities available. For details on locations and hours of operations, visit the Academic Computing Services website. In addition to ACS labs and other facilities that are made available to students of specific classes, Engineering Science also has a computer lab. These computing facilities are for engineering student access only, and are located throughout the Engineering Science labs. The Engineering machines are equipped with various software, including Microsoft Office, MathCAD, Netscape Navigator, etc. Certain machines are also equipped with course or project-specific software.
What distinguishes SFU Engineering from other engineering programs?
Among other benefits, students in SFU Engineering enjoy the environment of a smaller school, a higher faculty-student ratio, and much closer working relationships with faculty members. In addition, many of our faculty members are active contributors to leading edge research in specialized topics, or they have close industry ties.
Who do I contact about getting more information?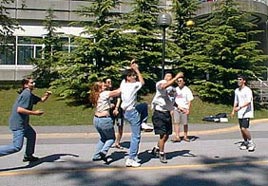 For more detailed information on admissions issues, please visit our Admissions section. Regarding co-op questions, please visit the Co-op/Internship section of our website. Contact people are listed in those respective sections for further questions.

If you have any further questions you can contact us at ensc-undergrad@cs.sfu.ca.